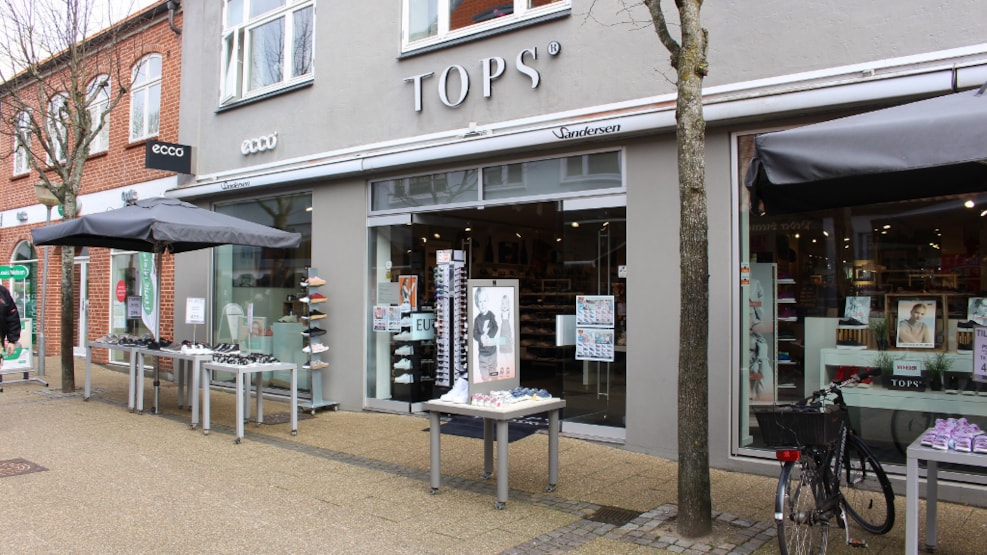 TOPS Sandersen Varde
Experience a large selection of quality shoes for the whole family. At Tops Sandersen in Varde, you will always find a wide selection of well-known and unknown branded products, all of which are in the best quality. In the Shop you will always experience a fantastic service.
TOPS Sandersen Varde is a shoe store with quality shoes for the whole family.
Here you will find a wide and large selection for both small and large feet.
The store of the 500 m2 is filled with fashion shoes and comfort shoes that hit the discerning family - with a large selection of all known and unknown brands. This means you will find a wide range of Danish and international brands, where the brands have in common they are produced in quality that the store can 100% guarantee.
Tops strives to have a wide mix between classic and new trends. You can therefore always go hunting in the many different departments.
The shop is located in the middle of the pedestrian street in the lovely old trading town, and there is an entrance from both the large parking lot and directly from the pedestrian street.
At Tops Sandersen in Varde you can also book an appointment, so the store is ready when you arrive. In addition, you will always meet a competent and skilled staff.
The store carries a large selection of brands such as ECCO, Billi Bi, Rieker, Gabor, Roots, TOMS, Tamaris, Geox, Woden, Green Comfort, Ara, Cashott, Merrell, Viking, Kangaroos, Rohde, Birkenstock, Skechers, Softwalk m.fl.