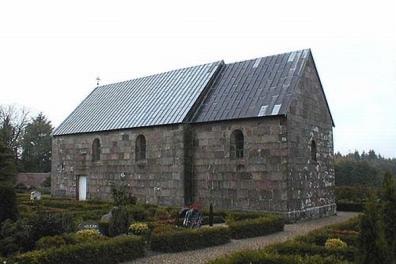 Torsted Church
Torsted Church is probably from the year 1150, and therefore a beautiful medieval church in Romanesque style with both choir and nave. The church has been continuously renovated inside and out, but kept in original style. The church itself is beautifully situated in the countryside, and is surrounded by the cemetery as well as a listed stone wall. From the church there is, among other things, a very beautiful view of the river valley.
Torsted is a medieval church from around 1150. In recent years, the church has been continuously renovated both inside and out. You will therefore find a very beautiful and charming church with new colors. In the choir arch there is, among other things, a carved clock bird.
During the renovation, an earlier Stone Age emerged again, and the church itself and the cemetery have been kept in as original a style as possible.
The church itself is located in a beautiful landscape, and from the church there is a very beautiful view over the river valley.
The churchyard is protected around the church, and the rest from a bygone era, when the monks used the churchyards to plant medicinal plants. There are therefore different kinds, which are now called relic plants, such as. royal candles, wild carrot and many more.
In the cemetery, the burial sites are very different. Some are large, others small and without regulation to make the burial sites uniform. The hedges, on the other hand, are different, and several types can be found at a burial site.
Find more information on Torsted Church's website.