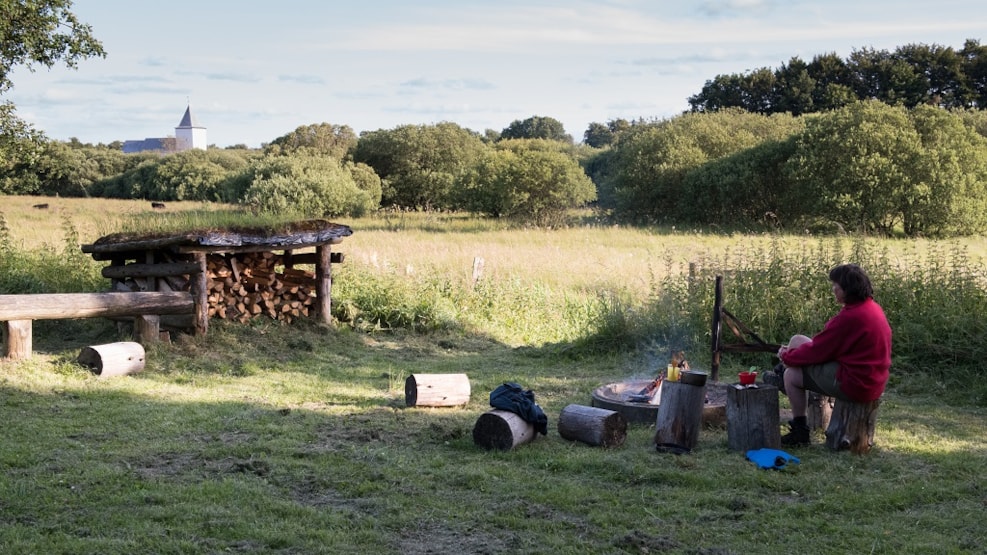 The University of Nature by Starup
Naturuniversitetet [University of Nature] is also the starting point for four historical local hikes, so if you want to combine scenic hiking trails with a fixed base in the middle of nature, you have a rare option here.
Langs Holme Å to Puglund
Eleven small stories are linked to this historic hike. One of them is about why Starup got his first paved road in 1954. Another tells of Krogården, which was particularly visited by potters. A third tells about the sacred St. Syllatzes Kilde, where the sick and disabled flocked in the Middle Ages.
Length: 5.7 km
Terrain: Asphalt road and footpaths
Holme Ådal
Holme Ådal was created from meltwater rivers during the ice age. It is a huge area crisscrossed with trails. This route tells the story of wealthy good people from Copenhagen who bought land, planted plantations and beautiful, bright gardens, in an effort to create jobs on the heath. Baldersbæk and its plantation are an example of this. The tour also goes past the brick ovens, the party area from 1901, which became Starup Parish's meeting place. Find out more about the local history of the nine dams, the meadow irrigation systems, the river valley, the reserves and the current cottage town.
Terrain: Footpaths
Vestterp and Tofterupmarkvej to Starup
Here, you literally walk right into the history of the Robber Bank, a legend from the old days about a thieves' lair. The trip goes past areas and buildings with stories about the past peat production, chicken and turkey farming, dairy farming, waterworks, and heath cultivation—stories that provide a unique insight into life on the heath.
Length: 12.1 km
Terrain: The surface is asphalt road and field path.
Starup Plantation
Part of this route takes you on Kærlighedsstien next to the railway, which was established in 1916 and decommissioned again in 1971. Along the way, you will pass through history in the form of the old potato cookery, the mill, the dairy cooperative, the community hall and the beautiful Sdr. Starup Plantation, from 1869.
Length: 9.7 km
Terrain: Asphalt road, gravel paths, field path
In addition, there are two other shorter routes: one that takes you on a trip through time around Starup town, and one where you can follow the old railway past several historic attractions.
All provide enriching and entertaining historical perspectives on both past and present. So you have the time and opportunity to let yourself be surprised and enriched by the history of the heath people.