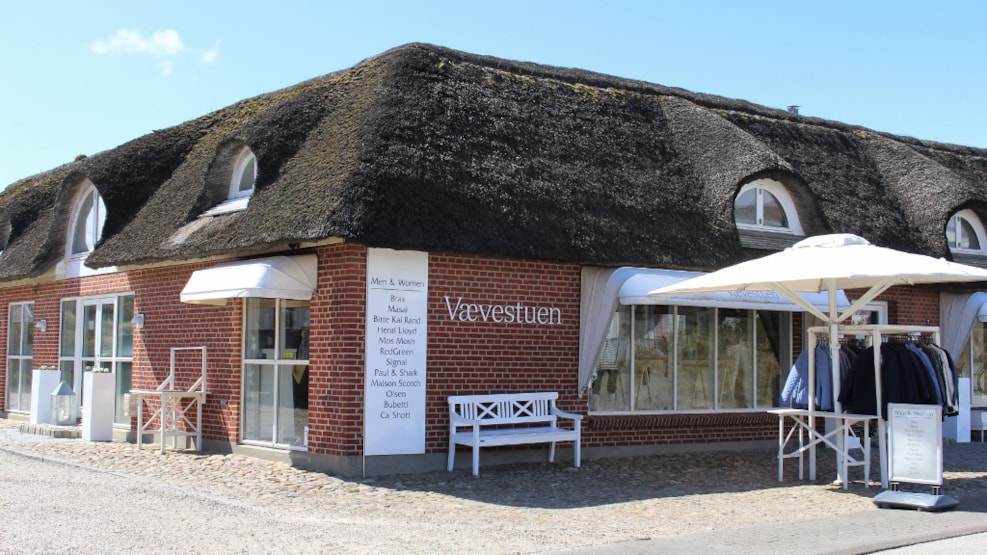 Vævestuen
Visit Vævestuen in beautiful Henne Strand, and find delicious quality brands for both women and men. In Vævestuen you will find a nice selection of fashion and applied art. Here the service is top notch and the staff is always ready to help you.
In beautiful surroundings by Henne Strand you will find Vævestuen, which was established in 2001. Since its inception, the store has been run by the couple Anja and Peder Jochumsen.
Vævestuen offers a wide range of quality brands, both for ladies and men. In addition, the store always has an exciting, small selection within applied art.
Of women's fashion you will find quality brands such as Mads Nørgaard, Mos Mosh, Part Two and many more. In addition, the store also has shoes, belts, bags and scarves for ladies. This is brands such as Shoe The Bear, Bech Söndergaard, Friihof & Siig and others.
For men, Vævestuen sells delicious brands such as Marc O polo, Strenströms, Brax, Henri Lloyd, Signal and Yeti. In addition, you will also find shoe brands for men like Bubetti and Henri Lloyd.
You will always find an exciting selection of applied art and here are fine, small details for the home. Here you will find delicious brands such as Meraki, House Doctor and many more.
At Vævestuen you will always find items that are adapted to the season and trends - and you always have ample opportunity to find inspiration.
In the shop you will also always find a competent and skilled staff who are always ready to help you. At Vævestuen, you always experience lots of service, and the store always strives to find what exactly suits you.
Vævestuen in Henne Strand is definitely worth a visit on your shopping trip.