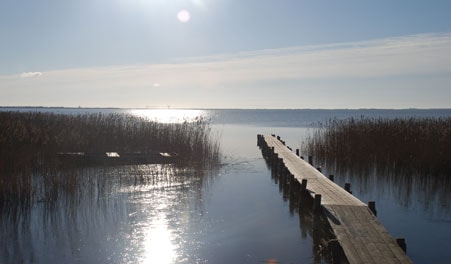 Vest Stadil & Stadil Fjord
At Stadil Fjord and Vest Stadil Fjord you will experience the great wide western Danish landscape with a fantastic bird life.

Vest Stadil Fjord has always been an important resting area for ducks and geese, who gather here in thousands. The pink-footed goose, which breeds in Svalbard, form the majority and they migrate to Denmark, Northern Germany and the Netherlands in winter. Among the large flights of pink-footed geese grassing on the meadows or eating waste corn on the stubble fields, you can see Greylag geese, Brent geese and Barnacle geese. On rare occasions you can be lucky enough to see snow geese, which normally do not migrate through Denmark. After the nature restoration where the water level in parts of Vest Stadil Fjord was raised so some of the corn fields were replaced by meadows, reeds forests and water areas, Vest Stadil Fjord has become a better breeding area. Large parts of the area are forests of reed where rare birds like the marsh harrier and the bittern can breed. Other parts are meadows meant to give the best conditions for the wading birds. Almost all existing sorts of ducks in Denmark now breed in the area of Vest Stadil Fjord.
The opportunities of real and fantastic nature experiences in the area have been improved with the nature restoration. Along the eastern side of the fjord is a 10 km walking and cycling path and at the northern end a bird tower has been built. Other good bird watching spots are Sidselbjerg and by the museum "Strandgaarden". The place has been equipped with various informative signs. One colourful panel show the birds you can discover and by pushing the panel you can hear their different voices. You find Stadil Fjord and Vest Stadil Fjord just north of Ringkøbing Fjord. Visit the tourist offices for more information and maps of the area.