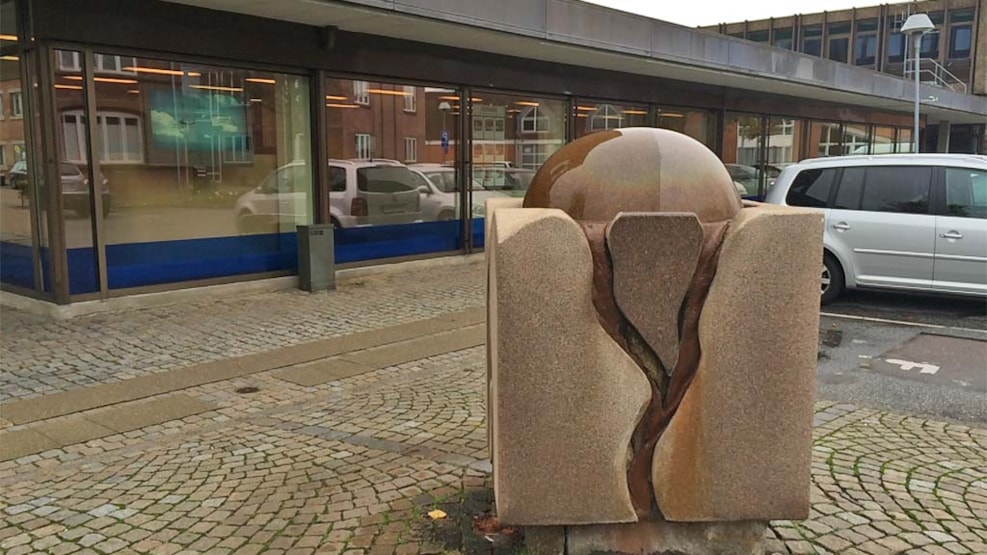 Vestjyllands navle
Gift to Skjern of the then Unibank Fund in connection with the execution and implementation of the regional plan for Bredgade.
The sculpture is carved out of a square, that with its raw sides form a nice contrast to the burnished dome - navel- that water gushing up and down before it is collected and sluiced down the two sides in small grooves that illustrates Skjern river delta.

"The sculpture is the symbol of a center where there are activities where things grow and where trading are done. The symbol of a thriving commercial city where initiatives are taken and put into practice and it is the symbol of the keeping of a good and forward-looking enterprise.
It seethes with energy and enthusiasm, symbolized by the water. The sides where the water runs down into two lanes on each side, symbolizing respectively Skjern River and Skjern River Delta.
At the top of the navel, the midpoint or center", said bank Director Steen Christensen at the sculpture revelation 22th June 1995.
At the corner of Bredgade / Tinghusvej, 6900 Skjern.
Stone mason Charles Vendelbjerg, Skjern.
Year of construction: 22-06-1995.
Material red bohus(Swedish granite sort).
Weight: over 3 tons.