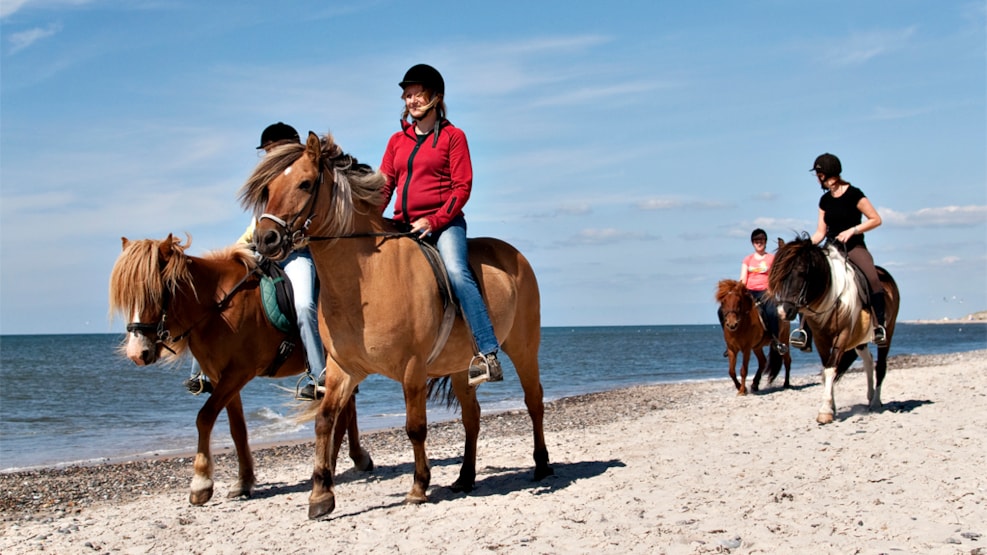 Vinterlejegaard Holiday and Horsecenter
In the beautiful West Jutland nature only 200 meters from the North Sea you will find Ferie og Ridecenter Vinterlejegaard. Here you have the opportunity to have an inspiring nature experience for the whole family in unique surroundings.
Ferie og Ridecenter Vinterlejegaard is located in beautiful landscape only 200 meters from the North Sea, and 8 km south of Hvide Sande.
Vinterlejegaard offers holiday rental and horse rental for beach riding for the whole family.
At the equestrian center there are 36 horses with a good mind, ponies and large horses, which are rented for riding every day of the week. The horses can be rented for beach riding of 1 hour plus ½ hour preparation. You will help to groom and saddle the horses before the ride, so you get to know your pony / horse.
The beach trips are offered for both beginners, easily experienced and experienced. It is also possible to get the first riding lesson on track or a pull ride on a pony. The tours are ridden in the morning and afternoon.
As something new, Ferie og Ridecenter Vinterlejegaard also offers Krolf, which is a fun sport for the whole family. The place has West Jutland's first and largest 18-hole course.
In addition to this, Vinterlejegaard can also offer 5 newly renovated holiday apartments in connection with the equestrian center. Here it will also be possible to order breakfast, lunch and dinner in connection with the rental of apartments and cottages.
Vinterlejegaard also has 8 cozy wooden cabins among the dunes and 50 meters from the main house. They are each equipped with a double bed, and a small bathroom.
If you go on holiday at Vinterlejegaard, you also have the opportunity to bring your own horse. Here you can stay in a cabin or apartment close to your horse / pony. Folds, fodder and hay are offered. Your horse will also comes on holiday. It is also possible to rent a box and field for your horse.
Go on unforgettable rides to the North Sea, where you can enjoy the roaring sea.