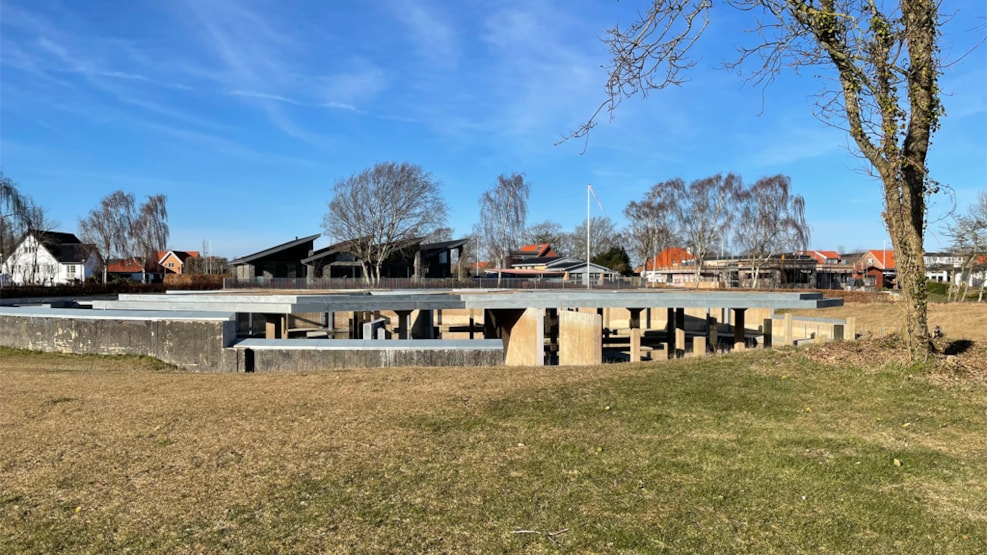 Water Gardens & the Green Corridor in Skjern
Visit the Water Gardens for an extraordinary experience. The Water Gardens are part of The Green Corridor, which clings along the Kirkeå through Skjern. In the corridor, you can follow a trail system that will reveal the area's history, nature and activity options.
The water Gardens are the pearl of The Green Corridor and with the three circular areas on either side of Kirkeå, they are spectacular sight to behold.
The water tank: its size, floating concrete roof and many columns allow the clouds to be reflected in the tank's water. The water tank is both for play and reflection. You don't need to fear the water, you can walk with dry shoes around the rim, or put on your wellies and find new ways through the tank.
The Refuge: with reflecting pools and benches between wavy hedges, Refugiet is the place to relax and think big. Or, you can try your hand at "unsolvable" tasks or find the benches with lyrics from Gnag's songs.
Sand pad: sand and water are the starting point for Sandpuden, where you can discover how sand and water work together when you pump up the water with pumps and shape the sand. Whether you want to splash with water and sand or build Skjern's most beautiful sandcastle is entirely up to you—the only limit is your imagination.
Frode Madsen's Bridges: follow the paths around and cross the two bridges to fully experience Vandhaverne. The bridges can also be viewed in the dark, as they are illuminated so that you can see their dance with one another.
The Green Corridor in Skjern stretches about 5 km along Kirke River through the town of Skjern from Skjern Birk Plantation in the east to Skjern Enge in the west, where it flows together with the Ganer River to a confluence with the Skjern River.
The Green Corridor is divided into five urban spaces:
The forest edge with horses and cattle, lakes and paths to Skyggehusddæmningen and Skjern Birk Plantation;
The Town Meadow with paddling/fishing lake with sandy bank, petanque court and sledging hill with activities;
The park with Vandhaverne, Spejldammen, flowers and trees, stage and play and activity areas;
Urskoven [primal forest], a rustic area of wilderness, bird life, lake and a panoramic sledging hill; and
Klosterengen [abbey meadow] with cattle, lakes, birds, grilling area and bird tower overlooking the Skjern River valley.