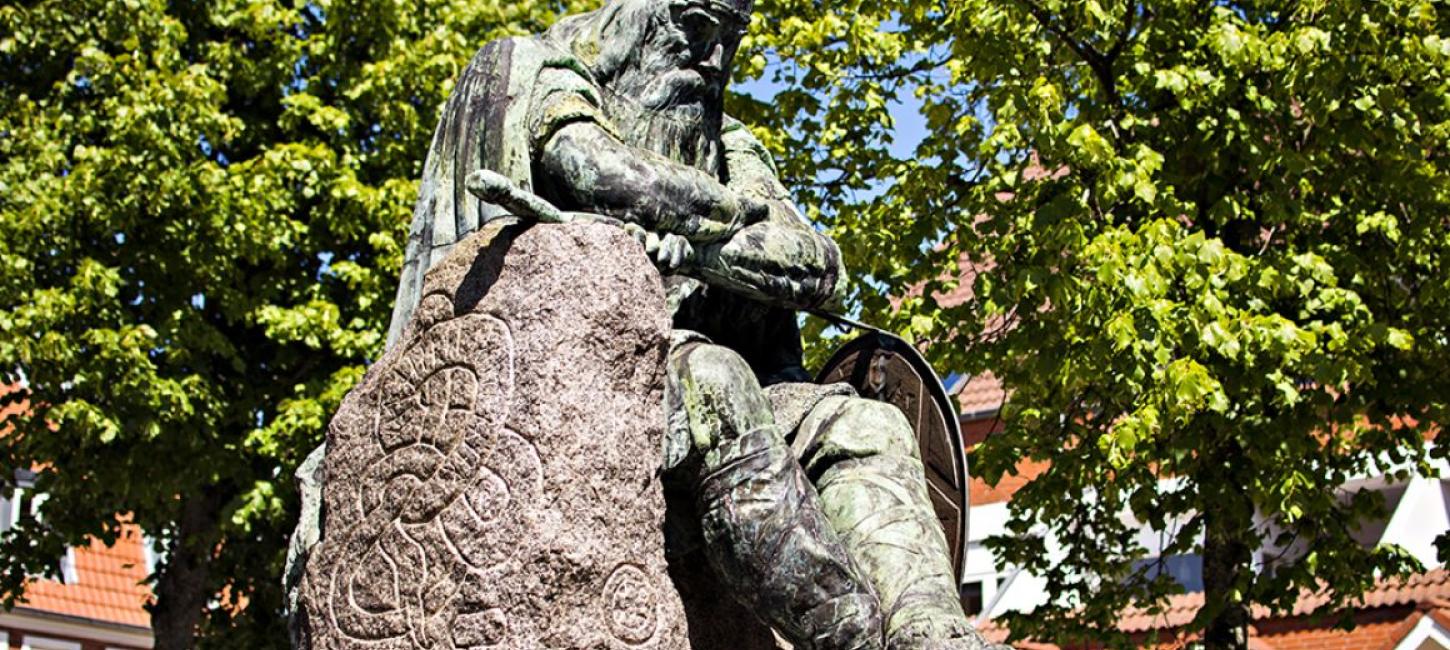 Holger Danske – a national icon
Holger Danske has for centuries been one of the mysterious icons in Denmark. Now the heavy bronze figure stands in the city of Skjern - but who knows; maybe an enemy of the people will bring him to life.
It wasn't just any statue that locals bought for Skjern in the spring of 2013, which drew the attention of both local and national media. The myth about Holger Danske says that, when the realm is threatened by enemies, this bronze statue will turn into a man and defend Denmark. For many centuries, this story was very important to Denmark's national identity, which was expressed in particular, when one of the resistance groups, during the nazi occupation of Denmark, called itself Holger Danske.
A french myth
Originally the Holger Danske myth doesn't originate from Denmark; it appeared for the first time in french literature in the medieval period. Under the name "Ogier le Danois", Holger Danske acted as one of Charles the Great's or Charlemagne's warriors. 
The first time that the myth about Holger Danske appears in Scandinavia was about 1510 and in 1534 a Danish version of the story, under the name "Kong Olger Danish Chronicle", was written. The author of the chronicle, Christiern Pedersen, came from Helsingør and the heroic figure therefore naturally became associated the castle Kronborg. Sculptor Hans Pedersen-Dan first cast a large plaster sculpture, which was the foundation for the mold for the real statue, which now stands in Skjern, and this plaster sculpture was placed in Kronborg. In 1985 the plaster sculpture was replaced with a concrete version, because the plaster had been ruined by the damp conditions. 
An inspiring mythical figure
The myth about the heroic figure has been a great inspiration to musicians and writers all across Europe. For example, B.S. Ingemann wrote a poem about Holger Danske in 1837, and H.C. Andersen wrote the fairy tale "Holger Danske" in 1845. In different parts of Europe, there are similar giants, sitting and waiting for their countries to need them. In Poland, he is called 'The White Prince' and sits in the Tatra mountains, and in Germany Fredewrik Barbarossa sits in the Kyffhaüser mountains south of Harzen. Holger Danske is thus part of a joint European mythical heritage, which has been passed on in novels, poetry, and folk tales.
If an enemy should knock on Denmark's door, we hope that Holger Danske will rise. In the meantime, the stone dead Danish mythical hero can be experienced at his new home Skjern.