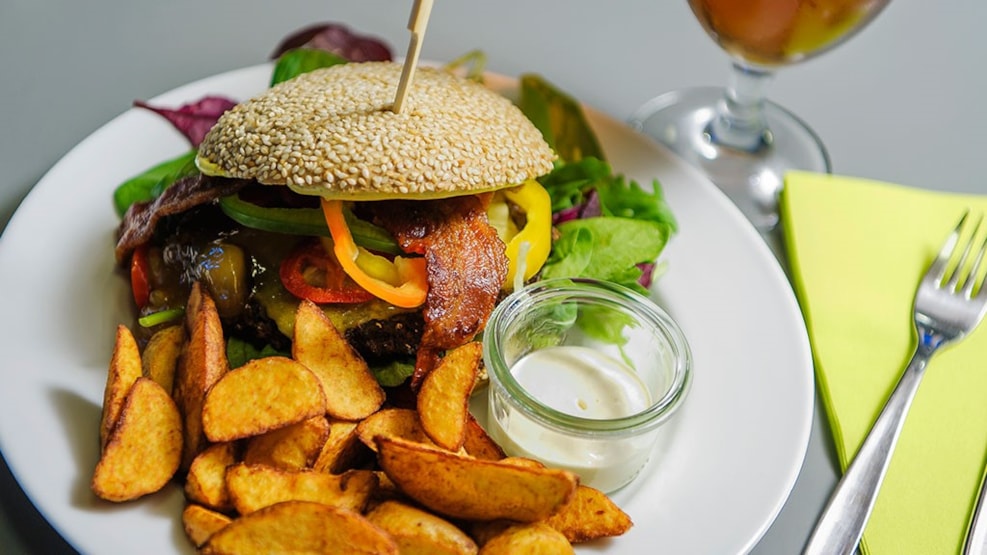 Café B
In Café B you can order delicious café food – and if you feel like it, you can enjoy a cold draught beer too. Café B also functions as a bowling centre!
We offer the best cure for hungry tummies: at Café B we serve delicious burgers, french dogs, nachos, sausages and fries, salads, snacks, coffee, cake, soda, beer, ice cream, candy, and much more.
No matter the occasion, mood, or day, there's something to any taste at Café B. 
CAFE B is located in bright, cosy, and newly renovated rooms, where you can do much more than enjoying food.
The café is located in connection with a bowling alley and two indoor golf simulators, which makes it easy to combine food with other activities. Café B oozes hygge and you can have a game of darts or pool here as well. At Café B we value a cosy West Jutland atmosphere with a focus on local interaction. Therefore, our staff are ready to receive you and do their best to make your stay at Café B a fun one.
You can find our menu at www.rskulturcenter.dk/cafe.
Café B is also ready to make your food to go, if you prefer eating at home.