FLUGT
Denmark's new international museum for refugee stories. 
From the refugee camp in Oksbøl to refugees in the world
At the end of World War II, more than 250,000 German civilians arrived in occupied Denmark after a dramatic, violent escape. In the last few months of the war, the Red Army's attack on Nazi Germany greatly affected civilians, displacing millions of Germans from their homes. In 1945, Denmark's largest refugee camp was established at Aal Plantage in Oksbøl. It housed 35,000 refugees at its peak. It is in this area that FLUGT has been founded.
Refugee flows are not just historical phenomena – quite the opposite. The world is currently experiencing the largest refugee flows ever. War and persecution drive people to escape for survival, safety and a new home. The media publish powerful images; opinions fly among politicians; debate is pervasive. Therefore, it is not only the refugees of the past that one will meet at FLUGT. These are also refugees who have come to Denmark in recent times from Vietnam, Hungary, Afghanistan, Syria and Ukraine.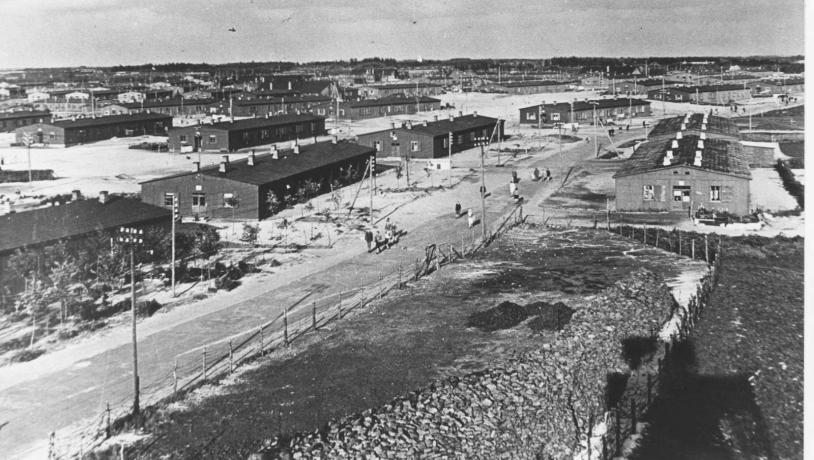 Photo:Vardemuseerne
At FLUGT, the story of the Denmark's largest-ever (though unknown to many) refugee flow is told, along with the story of the many refugees who have come to the country more recently. FLUGT will turn numbers into people and communicate the universal issues, feelings and many nuances associated with being a person on the run, both then and today.
- Claus Kjeld Jensen
Museum Director
World-class architecture
FLUGT was designed by the world-famous BIG – Bjarke Ingels Group – and is in a class of its own. In the refugee camp's hospital, which originally consisted of 40 small patient and operating rooms, the architects have created a brand new museum with eight large exhibit rooms. A new, beautiful, sweeping 500 m2 building ties the original wings together into a whole. The extension appears to be an external enclosed wall made of Corten Steel, but opens in a high-ceilinged, light room in wood and glass as soon as you step inside. There you will find service facilities such as a foyer, wardrobe, ticket sales and museum shop. The two original hospital wings retain their exterior appearance in the renovation and will appear in red tiles with small-frameded windows and a red roof tiles. Inside are an exhibition room, cinema, café, teaching and conference facilities and a production kitchen.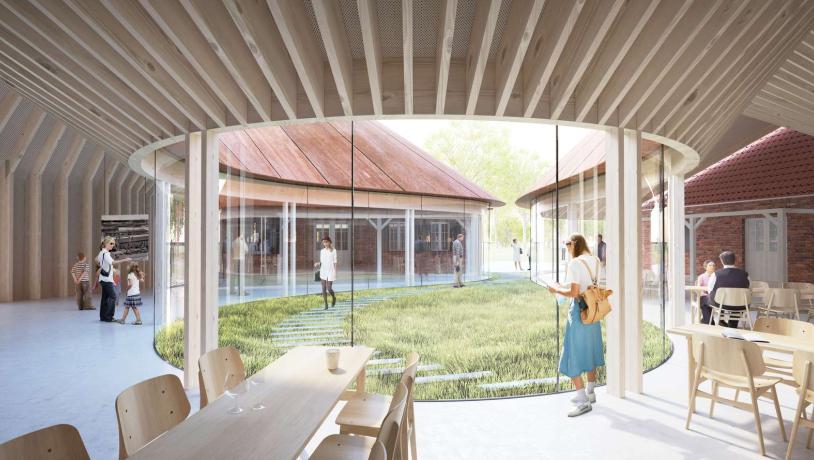 Photo:BIG / Vardemuseerne
FLUGT is supported by the German state
The museum tells the story of the 250,000 German civilians who fled to Denmark at the end of World War II. But it is equally a part of German and European history. Each year, up to 20,000 German descendants visit the refugee cemetery in Oksbøl. That is why the German state has contributed about DKK 10 million for FLUGT's construction, just as Schleswig-Holstein has given about DKK 750,000 to the museum. FLUGT conveys stories of hopes, dreams, budding insights, understanding and above all reconciliation between nations, because our shared history is important.
VISIT FLUGT HERE

Facts
Participating in the inauguration were: H. M. the Queen, German Vice-Chancellor Robert Habeck, Minister for Foreign Affairs and Integration Kaare Dybvad Bek, Minister for Interior and Housing Christian Rabjerg Madsen, Minister for International Culture Katja Keul and the Museum's architect, Bjarke Ingels.


 

The German state and the state of Schleswig-Holstein have contributed approximately DKK 11 million to the museum's construction.


 

Tinker Imagineers is behind the exhibition design.


 

Based on the UN Refugee Convention, the exhibit FLYNINGE TIL ALLE TIDER (Refugees at All Times) tells the story of refugee flows over the past century.


 

The Oksbølle camp existed from 1945 to 1949. Over the years, it hosted up to 100,000 German refugees. When the camp was largest, it corresponded to Denmark's fifth largest city.


 
Read more about

FLUGT

- Refugee Museum of Denmark at

www.flugtmuseum.dk

.