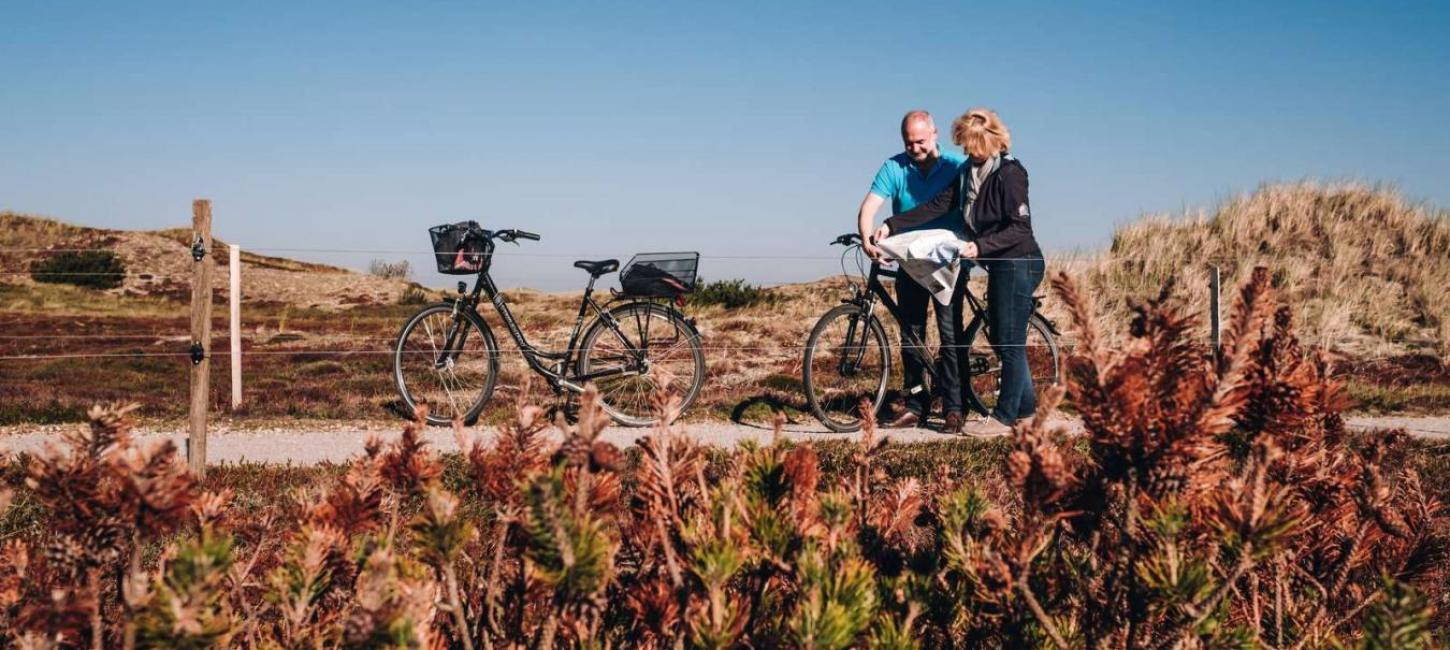 Around the fjord by bike
The route around Ringkøbing Fjord offers a wide variety of excursions and adventures; so you should reserve a full day for this trip.
100 Km route which begins in Hvide Sande and continues north along a nature trail next to the dunes and through the aromatic heath with beach roses, heather, blueberry bushes, pine thicket and birds' song. Underway you pass by the beautiful lighthouse Lyngvig Fyr which is Denmarks tallest lighthouse. The route continues past many holiday houses and through Søndervig with its shops and restaurants.
Stauning Havn
From Søndervig you can choose to take the asphalt road to Ringkøbing, or you can take a beautiful route along Denmark's oldest bikepath. From Ringkøbing, you continue along the eastern coast of Ringkøbing Fjord through the village of Velling, passing the aircraft museum Danmarks Flymuseum, the harbour Stauning Havn, and even one of Denmark's few whiskey distilleries, Stauning Whisky, which is located right outside the village of Stauning.
Bork Havn
Next, the route crosses one of Denmark's most beautiful natural bird habitats, which includes the meadow Skjern Enge and the river Skjern Å; in the area, there are bird watching towers and cable pulled ferries. Then you pass the church Lønborg Kirke at the bank Borgbanken; Lønborggård which was formerly the local bishop's dwelling; the harbour Bork Havn and the viking harbour Bork Vikingehavn; as you continue across the lowlands, including Værneengene and Tipperne peninsula, which is one of Denmark's most picturesque and unique nature reserves.
The route then continues behind the village Nymindegab and over the stream that was once the only link between Ringkøbing Fjord and the North Sea.
Holmsland Klit
The North Sea's coast line provides the final part of the route and again you travel the nature trail which winds its way through holiday home areas, protected heaths, and sand dunes where you can hear the roaring sea and where the old sea marks can be seen on top of the tallest dunes. Here you are able to spot the windmills at the entrance to the harbour in Hvide Sande.
Enjoy your lunch at Ringkøbing Havn; a cup of coffee at Stauning Havn; an icecream at Bork Havn; and finish off with a beer or a soda at Hvide Sande. You can also bring your own lunch and enjoy it in the countryside.
Around the Fjord bicycle map