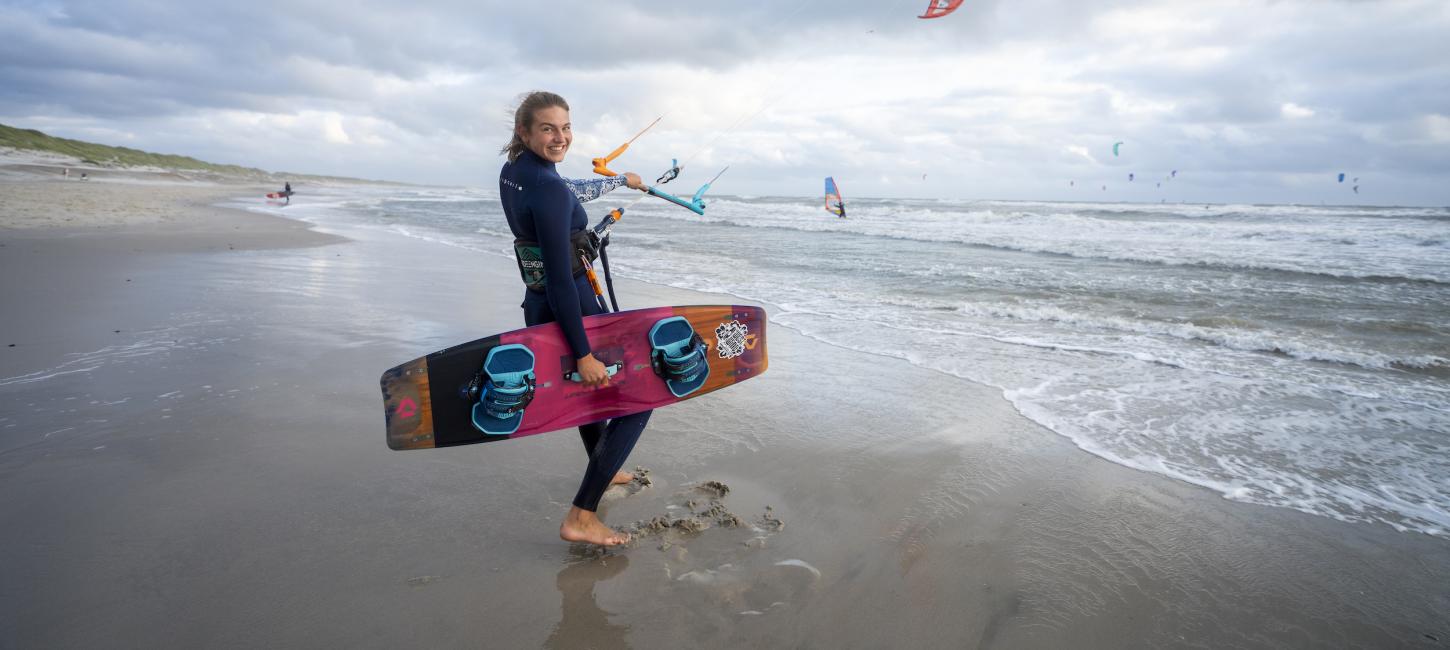 Kitesurfing at the North Sea
Wanna try out kitesurfing? Then Ringkøbing Fjord is the place to do that.
Can you tame a kite? 
Kitesurfing gives you the chance to fly across the surface of the water and feel the rush in your belly when the wind picks up. When the wind catches the kite, things move fast. Both the North Sea and the Fjord have what kite surfers love: wind. And lots of it. To ride the kite, you don't need high waves, but a good wind from the west that can get under your wings.
Ringkøbing Fjord offers ample opportunity to get a flying start to your kite surfing. From WestWind in the north to the east side at Kloster, Sorte Bakker and Skaven Strand to Bork Harbour and southernmost at WestWind Syd, there is a chance to take a trip on the waves– either by kite or sail. Sometimes it's good to take a break from the waves – whether it's coffee, ice cream or fresh fish from the local fishmonger, you'll find good places by the fjord. Kloster Strand has a cosy packed lunch house where you can enjoy your packed lunches, coffee and cake. From there you can keep an eye on the other surfers and maybe nab a few tricks or two.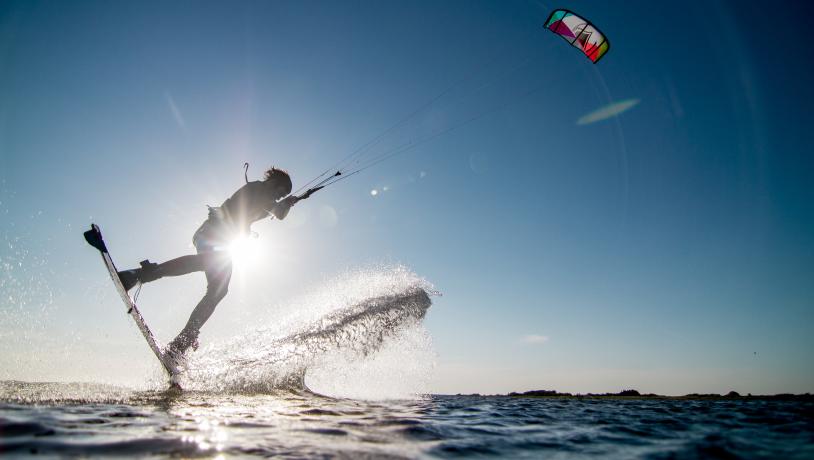 Photo:Jakob Gjerluff
Kitesurfing is a watersport synonymous with speed, thrill, and adrenaline. Standing on a board with footstraps, you get pulled across the waves by a large kite, which is controlled with lines attached to a short rafter. For experts, speeds in excess of 100 km an hour can occur and it is possible to jump 30 meters into the air, hovering for a stretch of maybe 200-300 meters across the water, until you land again softly på the water with your board.
Kitesurfing in the North Sea and Ringkøbing Fjord
In the Hvide Sande area, kitesurfers can surf on both the North Sea and Ringkøbing Fjord. The kite spots at Kloster, Bork Harbour, and the South Beach in Hvide Sande are the most popular places to glide across the water at high speeds. In the same way as with windsurfing and sailing, it's possible to beat against the wind and there are plenty of ways to have fun and vary the ways you perform this sport. For example, there are the wake style, wave riding, freestyle, jumping, and cruising. Kitesurfing is easy to learn and can be performed by anyone. 
Kitesurfing for beginners
If you feel like trying out kitesurfing, it's important that you attend lessons first. Both for yours and everyone else's safety. Ask in of this area's surf centres, which all offer kitesurfing lessons.