Christmas by the North Sea is a fairy tale
From Skallingen in the south to Vedersø Klit in the north, Christmas is rolling over the land and lighting up the streets, alleys, and the eyes of the children. In the Elf Town, Varde, Santa Claus is awakened by 300 cheerful elf children. And when normal people have a Christmas box in the attic, Varde have a Santa hat so big that it fills a house. Which has now been unpacked and place on the top of the town hall - where it can enjoy the view over the square and with pride be called Scandinavia's largest Santa hat. Santa Claus has also been awakened in Skjern, and he will sail into the harbours of Ringkøbing and Hvide Sande. With the elves following Santa Claus the trees are light up and Christmas is welcomed with a song. The Christmas spirit has been fired up everywhere, so that the cheeks can become round from the Danish Christmas speciality æbleskiver, the mulled wine can bring all the senses to life and shopping for secret gifts procedes apace in the market town's many shops.
It's the season when holiday homes become cosy Christmas homes. Where you can take a moment to let the time stand still over a board game and get a preview of the Christmas treats before the family moves back into the hustle and bustle, or into a completely different fairytale world. Walk along the elfen path by Øster Skovgård Julehandel, where both elf caves and Santa Claus suddenly appear. Or step into Nørre Vosborg and experience Christmas at a manor house decorated in the spirit of Hans Christian Andersen. Hear something as strange as elf tales in the dungeon, go on a treasure hunt or feel the inclusive Christmas spirit in the Great Hall. Sit down and let it all sink in with gingerbread and other Christmas treats in the café. The temptations will continue if you visit Nørre Vosborg's store.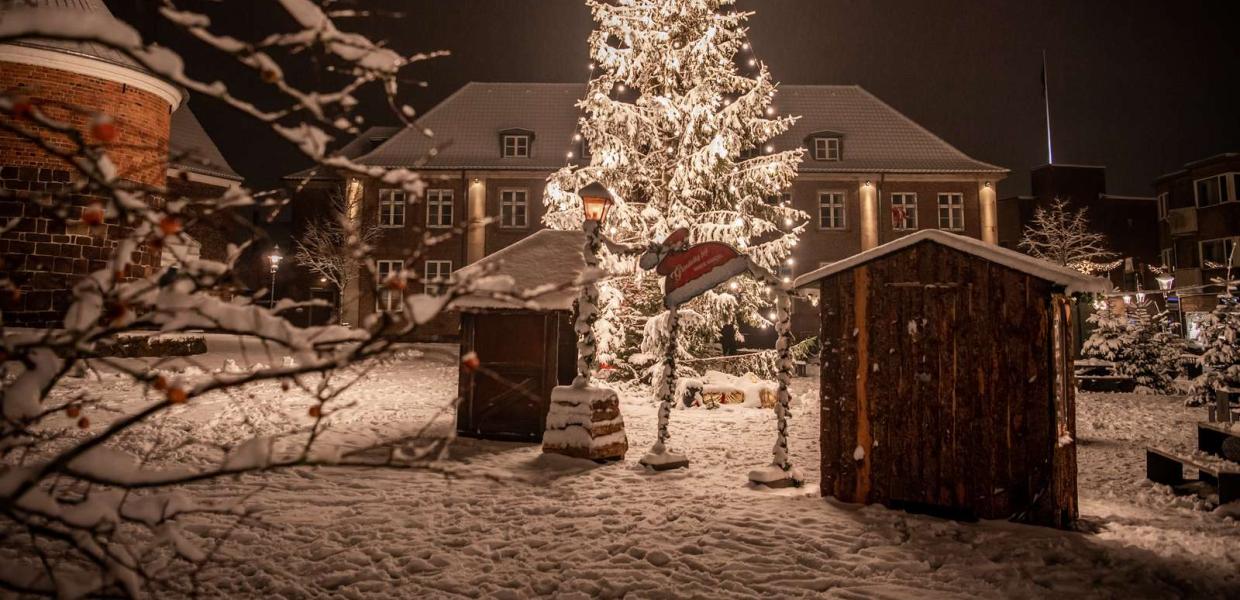 Coastal, market and harbour cities
Find out what our cities can do for your North Sea holiday
Christmas art and culture
This is called Denmark's most beautiful Christmas exhibit: "The Queen" at Mariehaven in Ansager, where floral artist Johnny Haugaard has created a setting to make the angels sing – literally. Come and be inspired and become part of the Christmas adventure yourself. In Thyborøn, Christmas traditions are interpreted in crystal clarity with ice sculpture – a unique display of light and life. At Museum Frello, you can take a moment's break from Christmas and immerse yourself in a completely different and wonderful world. Or merge with contemporary works by artist Mette Winkelmann at Vestjyllands Kunstpavillon in Videbæk. Last but not least: find your inner artist in the many active workshops along the West Coast. Unfold your creativity at SæbeRiget, make a gift made of clay at Leymus or sew your own sustainable Christmas gifts in Nørre Vosborg.