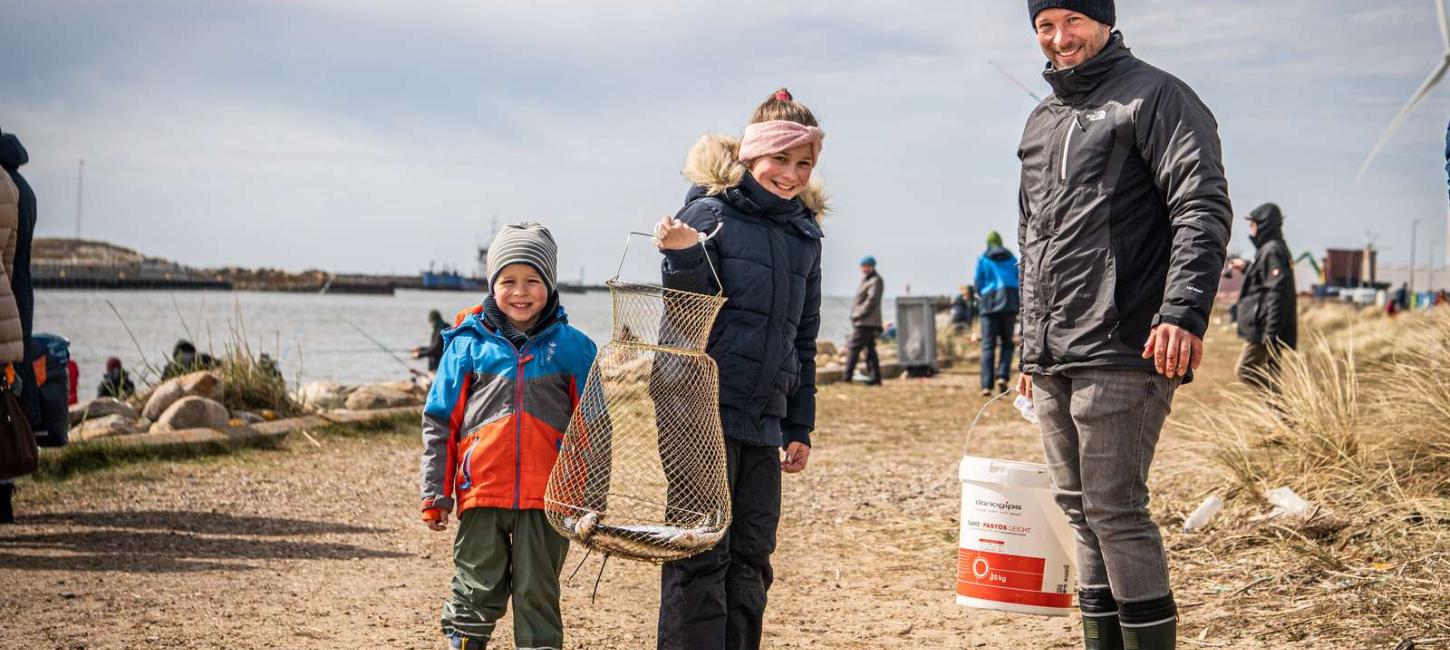 Nature experiences
At the North Sea you will find wonderful nature experiences for everyone. The area offers cycling and hiking in fantastic surroundings, adventures on the wide sandy beaches, amber hunting, kite flying and much more.
Fresh air, sea scents and open expanses. The landscapes of West Jutland are wild, wonderful and very rich in many different animal species. Venture into nature and return brimming with new sensations and energy from the natural world. Play sports in the water, fish in the lakes or cycle along the winding paths that snake through West Jutland. There is simply so much to do here and the natural landscape is just waiting to be explored. Untold swathes of pristine landscapes await, from deep forests to moors covered in heather and huge lakes.
From two wheels to two and four legs
Hop on two wheels and explore the area at your own pace, whether that be slow and steady or in true Tour de France style. Whatever speed you choose, just be sure to enjoy the views as you go. Cycling around Ringkøbing Fjord will add 100 km to your odometer and bring you past lots of stops and sights. If you prefer your feet on the ground, Naturpark Vesterhavet offers tailored hikes in the form of nine different routes that can all be completed in a day. Or go for the full experience and book a four-day hiking trip including food and accommodation. In hunting season, West Jutland is brimming with red deer that impress visitors with their majestic antlers. Head to Skjern and check out the rope-pulled ferries and a fantastically rich birdlife.
Explore nature on your own
The horizon, the sound of the waves, a gentle breeze and that fresh scent of salt in the air. Simply stand on the spot and take it all in. Head out onto the water and look back at the coastal landscape, dotted as it is with bunkers, sand bunkers and rocks. Enjoy a day on the beach, a kayak adventure on the fjord or an early morning alone with your fishing rod. No matter what it is that gives you butterflies in your tummy, you are sure to find it in West Jutland: Build a sandcastle, hop on an SUP paddleboard or cast your line and catch some dinner.  
Naturally nature's an adventure
Have you ever felt the thrill of a kite in the wind, gone hunting for the Gold of the North on the beach or spotted an unusual creature soaring overhead? The wide beaches of the North Sea are simply made for letting your kite rise with the wind. You can embark on an amber safari in Hvide Sande and nab a few chunks of these caramel-like treats to take home. Filsø, Tipperne and Skjern Enge are all prime spots for nesting and migrating birds – so don't forget your binoculars, a thermos and a packed lunch! The life of a kite wrangler, gold hunter and bird watcher is enough to leave anyone short of breath.
Exciting, challenging and fun nature experiences
Nature aplenty for four-legged friends
Holidays are for all the family – and that includes family members with long tails, soft fur and four legs! There are plenty of spots around the North Sea and the Fjord where dogs can run free and many hotels and lodgings will be all too happy to set out a dog bowl. So bring your four-legged friend along and enjoy walkies in the dog forest, along the water's edge or through the dunes.