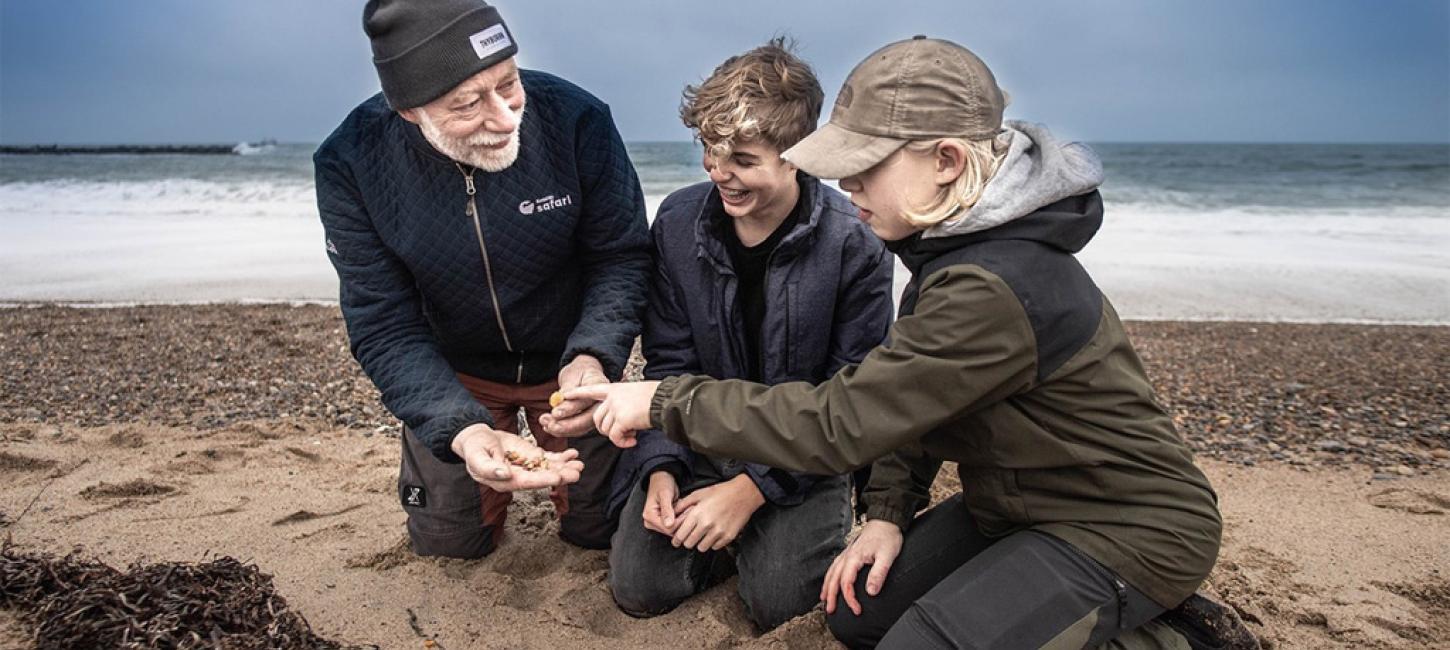 Autumn on the windy coast
Enjoy the autumn by the North Sea - the beautiful colors, open spaces, coziness and board games. By the North Sea, there is plenty of space and plenty of time for those moments that matters to you.
Once the summer air has been squeezed out of the beachcomber, it's time to dive into the deep waters of horror stories from the Viking era at Lokes Night . For both children and adults, the West Coast is an Eldorado of discoveries, from peaceful playgrounds to guided tours through wild nature. It's like being in a completely different country - a fairytale realm with spectacular landscapes and breathtaking tales hidden beneath the sand, or at the water's edge after a windy coast storm . Then you can be lucky enough to find amber – resin oozed from trees 30–50 million years ago, hardened by the sea. Perhaps the amber festival in Vejers is something for you? Not least, there are plantations where the four-legged can also be unleashed. Everyone is welcome. North Sea Coast hospitality has made the region the place where Danes would most like to take their holiday.
Culture is the sound of rutting roars on a Red Deer Safari in Kærgaard Plantation. These are feelings for birds that you can feel yourself. It is the scent of moss and pine needles in the plantations. It's free rein to think of the open spaces and dreams that are lit by a bonfire when staying in a shelter. Culture is also FLUGT, an architectural work designed by the Bjarke Ingels Group and the first museum in the world to convey the universal feelings of being a human being on the run. Culture is also largely shaped by the nature that surrounds us. At the special exhibition in Tirpitz, you can bring the whole family along to the Hidden West Coast, a journey 20,000 in the past, when the land was covered in ice and the North Sea was nowhere to be found.
Sample the wild North Sea cuisine
Wild and colourful, nature unfolds and nourishes more than our mental health and good mood. Everything from the ground, air and sea also settles well in the stomach. Take part in the wild North Sea culinary culture on a mushrooms hunt or learn the art of catching your own crayfish. Everywhere in the markets and farm shops, you can sample specialty products from small local producers, from juice to cheese and West Jutland whisky at Stauning Whisky. In the kitchens of the many cafes and acclaimed restaurants, dishes are prepared from scratch and with great respect for the local ingredients – often served in the company of the season's fish or shellfish. North Sea cuisine is a love affair with the sea in all seasons, where every morning the day's catch is landed and entered on the menus.